Small Family estate happily organic
A hillside where life is good
Small Family estate happily organic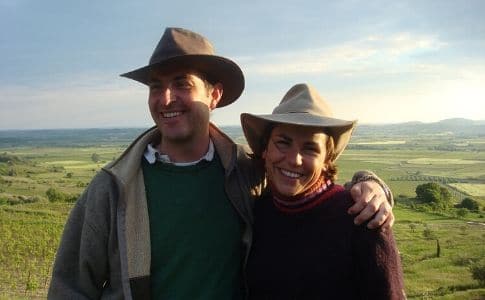 The nice story
Created in 2008, Allegria is the fruit of the friendship between two families: the d'Aboville family and the de la Mota family. The passion and enthusiasm of a young family with 5 children combined with the know- how of the legendary Argentinean winemaker, Roberto de la Mota, creator of "Cheval des Andes" and most recently the Bodega Mendel, known by all fans of Malbec.
Allegria means joy in the local language Occitan!
We want to communicate this joy of life, our happiness, and share the Allegria through our wines, and with all those visiting our estate. We want to share the good vibes « of this hill where life is good".
This beautiful story of friendship gave the name of our Grande Cuvée, made from our best Syrah plot and produced in exceptional years.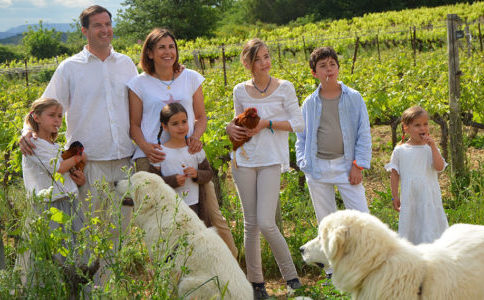 A volcano for terroir
Un volcan, le volcan des Beaumes, est le trait d'union des 12 hectares du Domaine, d'un seul tenant mais d'une grande diversité : terrasses de graves villafranchiennes, cailloutis de basaltes, calcaires marneux se suivent à quelques mètres de distance.
Autant d'atouts à exploiter pour obtenir des vins avec une belle complexité.
Neuf cépages méditerranéens composent la mosaïque des vignes du Domaine. La Syrah est majoritaire. Nous avons replanté du Grenache Noir qui manquait pour donner le soyeux et l'élégance que nous recherchons pour nos assemblages.
Nous connaissions mal le Mourvèdre : une grande parcelle de 35 ans nous a rendu passionné de ce cépage qui donne de magnifiques notes poivrées, ainsi que la longueur et le potentiel de garde.
Une petite parcelle de 40 ans de Carignan Noir est le cœur vivant de notre Domaine : été sec, été brûlant, cette vigne donne naissance chaque année à des raisins somptueux, croquants à souhait.
Pour le Cinsault, c'est une histoire d'Amour qui ne fait que commencer. Nous avons basculé tout entier dans le fruit et l'élégance de ce cépage et créons d'année en année un vin rouge original vinifié sans sulfites ajoutées. Pour ce cépage méconnu, nos ambitions sont grandes !
Pour les blancs, les 2 stars, émigrées du Rhône : Roussanne et Marsanne pour vous servir. Grenache Blanc et surtout Carignan Blanc viendront prochainement compléter l'assemblage de notre cuvée de Blanc. Le Carignan Blanc nous enthousiasme particulièrement par la fraîcheur et la tension qu'il apporte au vin. C'est encore une fois un grand inconnu à faire découvrir !
Le vignoble a le bel âge : 17 ans pour les vignes les plus jeunes, 40 ans pour les parcelles les plus vénérables ! Toutes nos vieilles vignes sont vendangées à la main.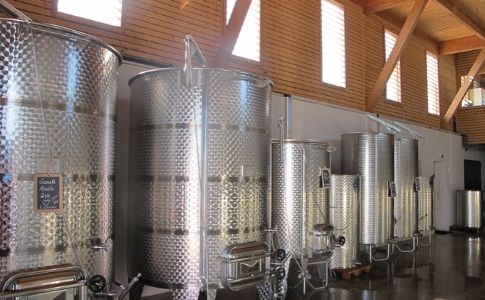 CHEERFUL AND ELEGANT WINES
We favor a slow wine-making process, extracting just enough to preserve the natural fruit and keep the freshness and elegance.
Concrete vats of different sizes are used to accommodate each plot and vinify them separately. Until we get to the blending, we believe this is an important step to maintain the personality of each plot.
The red varieties are fermented in concrete tanks. The thermal inertia of concrete offers a major benefit for soaking following the fermentation where the temperature must reach at least 20°c – and it is also the perfect material to control the temperature during the aging process in summer.
Our rosé and Marsanne are fermented in stainless steel tanks. During fermentation, we perform a delicate «pigeage», by foot, because it is this Burgundian craftsman technic that gives the best results. We don't add sulfites to most of our wines during winemaking and aging. This allows us to add just a very small amount of sulfite at bottling, realizing an efficient protection effect during transportation and storage.
The « Cinsault Abuelo » is bottled without any sulfites at all which allows us to preserve the natural purity of the fruit.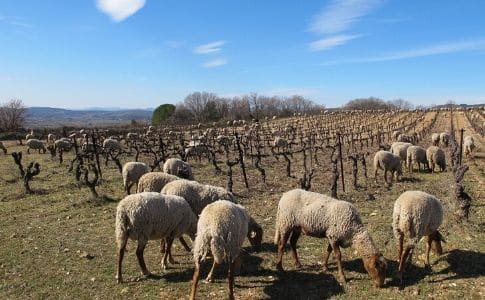 Why organic ?
What led us to immediately convert to 100% organic the day that we bought in 2008?
For us, it was a decision, and an obvious one, that we had made many years before actually acquiring the vineyard. Our vision is enhance and support the traditional methods of agriculture and reject chemically created pesticides that are toxic to the environment and human health. This is the philosophical reason!
And what can be better than picking and eating the wild leeks and asparagus growing in our vineyards! That is the gourmet reason!
We also appreciated the view of Nicolas, a shepherd in Fontès, who exclaimed « You're going organic! Fantastic! I can bring my sheep to graze in your vineyards during winter because there will be grass again – and good grass! » In a nutshell – life! That is the poetic reason. What is more whimsical than sheep grazing in a vineyard!
And really, we are so happy that our children can gorge themselves on grapes during the harvest without fear of the dangers of chemicals. This is the family reason!
Organic wine is better for our body and our soul – and for the body and soul of our customers! There may be disagreement about the science and proof may not exist but it is our deepest belief.
And this is the most important reason.
JE SAIS COMBIEN IL FAUT, SUR LA COLLINE EN FLAMME, DE PEINE, DE SUEUR ET DE SOLEIL CUISANT POUR ENGENDRER MA VIE ET POUR ME DONNER L'ÂME
"CHARLES BEAUDELAIRE, l'âme du vin"
FROM THE BLENDING TO THE DESIGN OF THE LABEL, BECOME THE VIGNERON UNDER OUR GUIDANCE AND CREATE A BARREL OF YOUR OWN CUVEE IN THE SOUTH OF FRANCE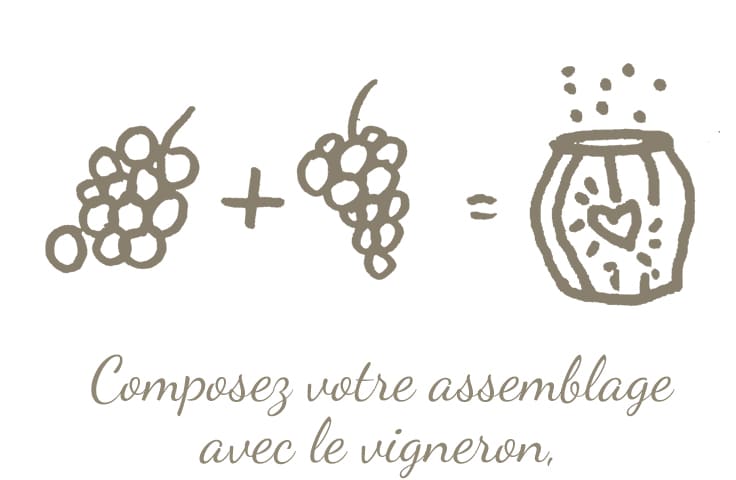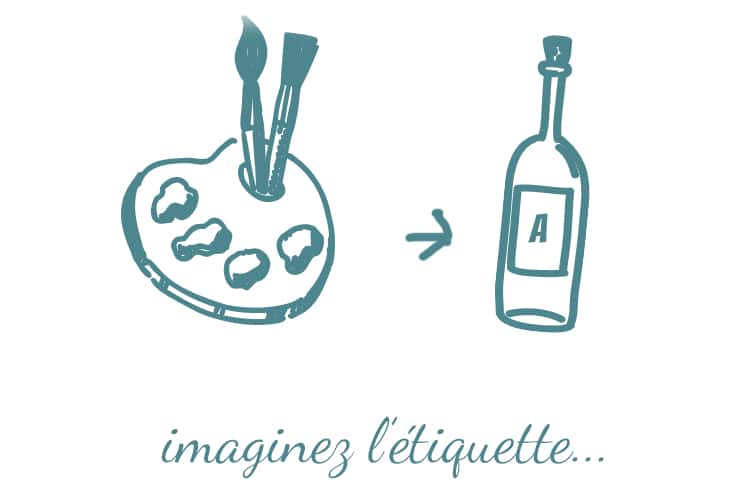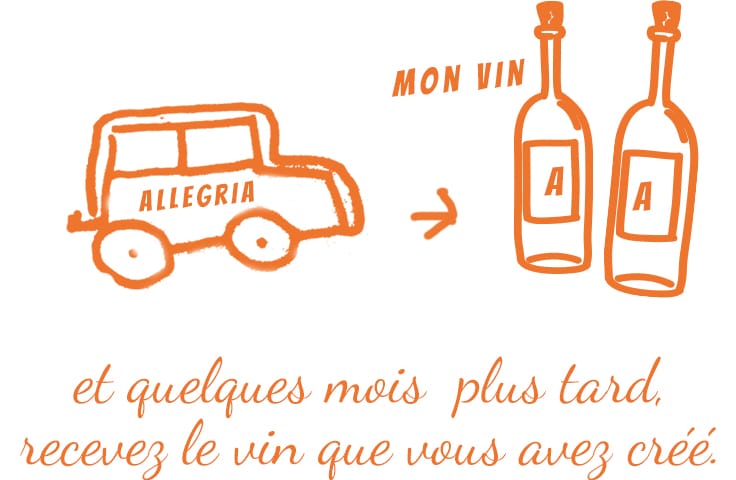 A hillside where life is good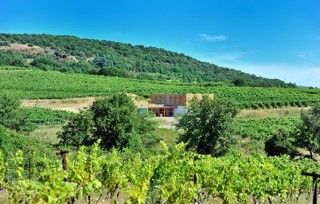 Pour découvrir cette colline où l'on se sent bien, pour goûter aux vins que nous avons créés, venez nous voir!
Pour vous recevoir au mieux, nous vous prions de prendre rendez-vous.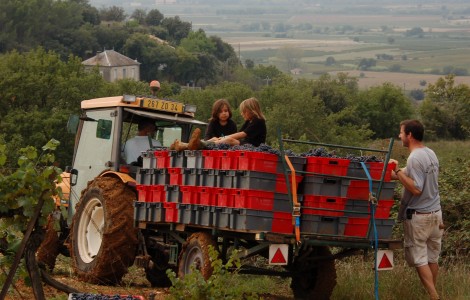 Vous avez toujours rêvé de participer à des vendanges?
Nous organisons des journées vendanges, qui se clôturent par un déjeuner de vendanges festif et délicieux.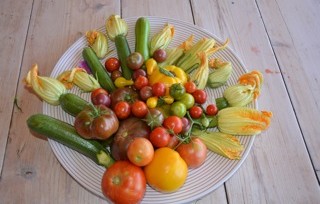 L'espace de quelques heures, nous vous invitons à venir partager notre passion et déguster tous les vins autour d 'un bon déjeuner.
Atelier + déjeuner: 49 €
à partir de 10 participants, sur rendez-vous.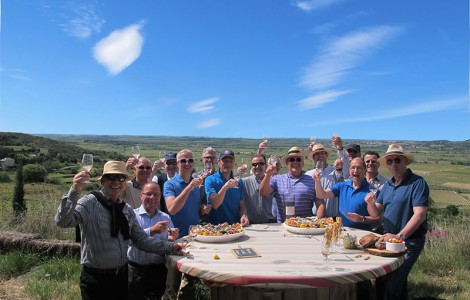 Si vous êtes amoureux des vins d'Allegria, rentrez dans le club des Aficionados.
Vous pourrez commander vos vins préférés à prix d'ami, et nous vous inviterons chaque année à des journées pleines d'Allegria.
Rejoignez le club !
RETROUVEZ LES DERNIers articles de presse
retrouvez l'histoire de nos vendanges
Pourquoi serais-je triste, après tout ? Je vis à mille lieues des brouillards parisiens, sur une colline lumineuse, dans le pays des tambourins et du vin. Autour de chez moi tout n'est que soleil et musique ; le matin, les courlis qui font : « Coureli ! coureli ! » à midi, les cigales, puis les pâtres qui jouent du fifre, et les belles filles brunes qu'on entend rire dans les vignes…
"Alfonse Daudet, lettres de mon moulin"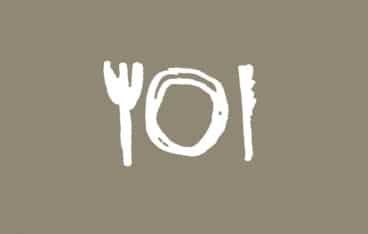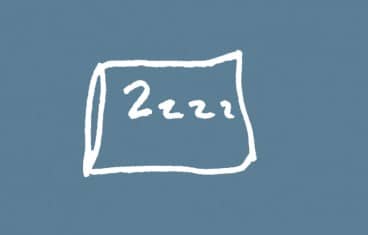 Ghislain, Delphine et la tribu d'A
La famille d'Aboville
Domaine Allegria
Fontarêche 34720 Caux
N 43° 31′ 48
E 3° 21′ 37